The natural landscape is one of the timeless subjects subjects associated with the visual arts. In the past it was rendered through the use of paint. Some of the most famous portrayals of the natural landscape have been:
Impression, soleil levant
by Claude Monet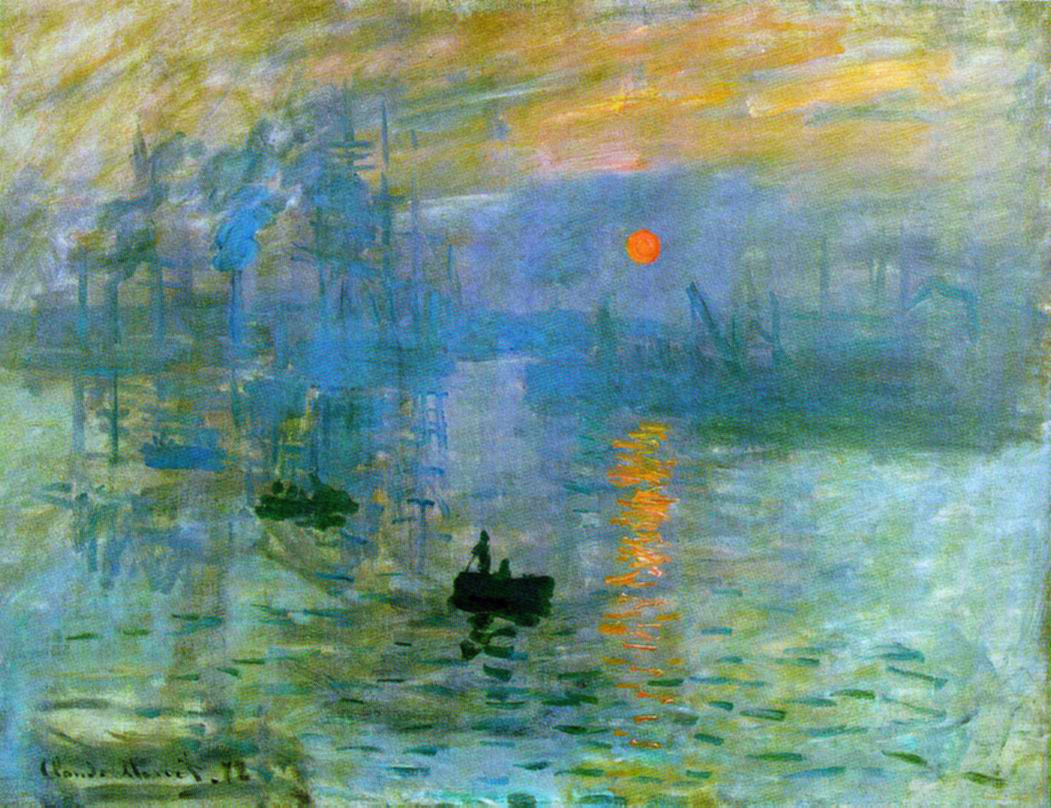 Starry Night
by Vincent Van Gogh
View of Dedham
by Thomas Gainsborough
Cotopaxi
by Frederic Edwin Church
Artwork involving the natural world has become common place in the contemporary art world, taking on various mediums and meanings. We would be hard pressed now not to find an artist talking about the natural world and the effects of the industrial revolution or climate change. However, there are others who take a sentimental look at the natural world around them.
Sean P. Morrisey
Printmaker Sean P. Morrisey takes a light-hearted view of the landscape. His work is based upon how humans are effecting the environment through American suburban homes and also the identity which is made by the new up and coming generation of 20 somethings in America. In addition to that, his work also explores the materials used in construction and the irony of consumerism. He uses several techniques in producing his prints which include screenprinting, digital prints, and chine colle.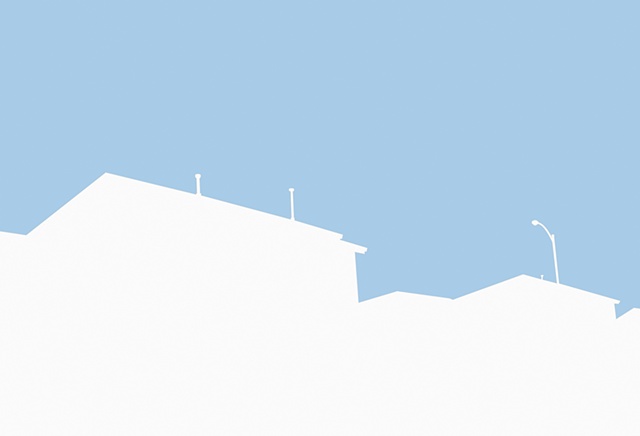 Stratosphere #MSL155, 2011, latex on panel, 22 x 15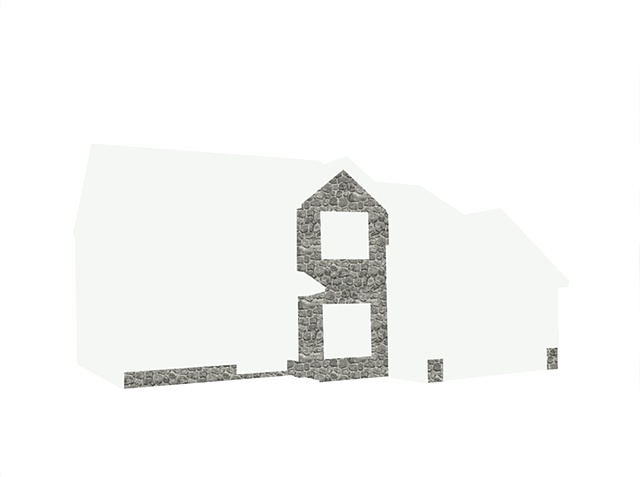 Façade #3, 2011, digital inkjet, collage on panel, 40 x 30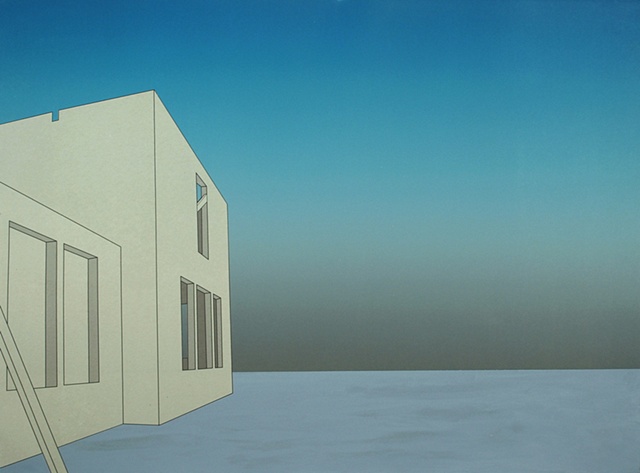 Manifest Destiny: 2010, #12, 2010, monotype, digital inkjet, graphite, chine colle, 30 x 22
This artist's work has been directly influenced by his places of residence. He is from the midwest, but moved to Lincoln, Nebraska for graduate school (he currently resides in New York). The weather, socio-economic disparities, and suburban community of Lincoln highly effected and fueled his work through grad school. Geometric shapes found in everyday life such as parking lot lines, water grates, railings, and other geometric industrial shapes were Sean's interests in his prints following the completion of his undergraduate degree in Studio Art from Bowling Green University. This slowly evolved into a more suburban focus in building materials and construction. He also used the sub structures of buildings such as beams and posts.
The shapes of windows on upper middle class houses in comparison to those of the projects apartments were fascinating enough for Sean to explore through overlapping and layering the shapes in an indefinite space. Another development in his work was his observation of awnings and crown molding not only inside of homes, but the odd way it has been included on the top of shopping centers and businesses. This lead into his interest in the shells of houses in the stages of construction (specifically suburban homes).These prints were the beams of houses still in construction set upon a solid blue background (or a gradient of orange and yellow).
Continuing from that same vein of thought, another series of prints based on how these structures are affecting the environment, from the shape of the houses, to patterns that lawns are mowed in appeared. The majority of these prints were the result of Sean being in communication with high school friends who were now "settling down" into American suburbia. He found through studying the obsessive manicuring of lawns from the people living in suburban Lincoln, Nebraska, that no one seemed to care about the sidewalks, and did a small edition of prints based on sidewalk shapes and patterns, but instead of using colors indicative of sidewalk cement, he used samples of faux marble that is used for kitchen counters. At that point, Sean began incorporating colors and textures used in wallpaper swatches from companies like Martha Stewart and Lowe's to further comment on the social identity that people begin to conform to as adults buying their first homes. Some of the color swatches sold by Martha Stewart have ridiculous names which do not correspond with the actual color. For example, the swatch "cloudless day" is actually a very dull and gray shade of blue, almost ashen; yet people are painting their children's bedrooms with it.
Sean directly observed homes and neighborhoods while in Lincoln and the quirky nuances of all that goes into buying a contemporary home. It is interesting that the way we live (that is the way most of our houses are designed and the design choices of interior decorating) is not really determined by us. Pre-prescribed color swatches, floor plans, and décor are laid out in a short order menu, and yet because of the marketing of these things, everyone naturally assumes that they are making an individualized decision when they go to Sherwin-Williams to pick up paint for the kitchen. It says a lot of American consumerism and culture. We pride ourselves on being individuals, but are we really?
Jason Lanka
Jason Lanka teaches at the University of Wisconsin Eau Claire and is also a native of Wisconsin. He works with many mediums (sculpture, installation, and drawing) to show the disconnect people, our culture, has with nature.
Manifest Series, performance still
Disparate Bodies, performance
Terra Intaglio 3, installation
He is also exploring how we are leaving physical and permanent marks on the earth. During his time in graduate school, Jason moved from Wisconsin to New England and before long was very homesick. Although he missed his family, he was actually homesick for the wide open plains that he grw up on. He described the feeling of being "ripped away" from something he loved. The main series of his work that features this thought is
Manifest
and
Disparate Bodies
. This series was performance based and was documented by photographs and video. Jason constructed several sets of wing like structures and also structures which were like extended fingers which dragged on the ground. These structures were strapped to his back and he would walk as far as he could with them until his body was exhausted to the point of collapse. Although the structures appeared to be light, they were actually close to 400 lbs. During these performances, he also changed his appearance. In one, he was dressed as the all American "Marlboro Man", in another he shaved his whole body, painted himself white, and wore the robes of a monk. Each performance is almost unnerving to watch because although he is "in" a natural setting (usually a field) and somewhat interacting with the natural world by making marks in the dirt through the dragging of the apparatus, he is still disconnected. His body is not touching the earth, it is touching it through the help of the apparatus.
The other half of his work, which is how we are leaving marks on the environment. This is more focused on the "natural" marks in the earth that animals and people have left, such as game trails, and blazed paths. He has marked these paths with larger than life sculptures of needles. Needles and humans have the same height proportions, so these represent people wherever they are placed.
Summer Zickefoose
Summer Zickefoose's work includes performance and sculpture as well. She currently teaches at the University of Pennsylvania Westminster. Summer was also from the plains and grew up on farm. Summer focused more on the people and animals of the environment, not just the environment itself.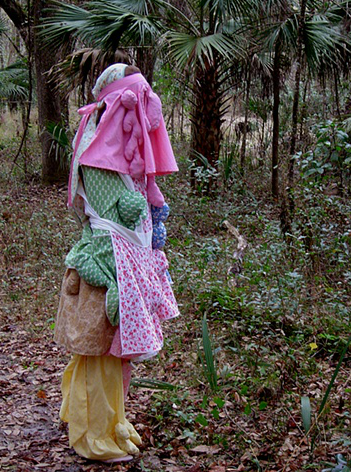 Feeding Sites, 2004 (Phase 1) performance, feedsack fabric, nuts, seeds
Object Lessons: Ogle County, 2005, collected porcelain plates, feedsack fabric, objects of various materials (paper, wood, prairie grass, copper, stones, cookies, saran wrap, eggs, tea bags, fabric, grapes, molasses, flour, pear, canning jar, etc), Illinois pasture
Visiting, 2009, performance, tea, coffee, cookies, cups, wood, fabric, wallpaper, recipe cards, wall dimensions: 8' x 6'
The culture and way of life which grew out of certain environments were important to her. She moved to Florida during graduate school and was affected by how much of the natural landscape there had been removed and covered in concrete. This led to a series called Feeding Sites in which she created clothing out of old gingham fabric which was actually the same fabric used in animal feeding bags. The clothes were worn by her, but also left in the site (a swampy wood) and the decay and consumption of them by squirrels was documented for a month. Going back to the culture and way of life of people who inhabit certain environments, Summer did a performance piece called Object Lessons: Ogle County. This performance involved a grid of dinner plates, and three women wearing aprons which had connected pockets. The site was actually on a farm in Wisconsin. The three women jumped from plate to plate while rotating objects which were randomly drawn from their connected pockets and perform an action with them (such as cradling and rocking a wooden cooking spoon). All of this was done while reciting a recipe for ginger snap cookies.
Another similarly related performace piece (Visiting) Belfast was done by her in Belfast, Northern Ireland. During this piece, Summer would go to the busy hubs of Belfast with a tea cart and engage passerbys in conversation about the political conflict there over tea. The tea symbolized a more intimate and domestic haven, one that was shaken in the years past by political unrest there. Her reasoning for this venture was to get another perspective of the landscape that was most important to her, and that was the meaning of home.
Most of us take for granted the actual "space and place " we are living in, the landscape around us. The only time that each of us can really notice is when it's gone. The disconnect we have from nature is such a wide gap, that even while we are in it, and it surrounds us, we don't notice it until it is gone.